December is here, and the cold weather in our part of the world makes me want to stay inside toasty warm and do some sewing, stamping and hot glue projects.   I have some new readers that may not have seen previous year's projects, plus some of the long time readers may want to do a project they didn't have time for before.  So, today, a roundup of ideas for quick projects you can do in a day.  There are table runners so easy you can whip up today for dinner tonight, quick handwork projects, fun cards and more.  Make a fun gift for a friend or a new home decor project.
First up, a really quick table topper or candle mat using holiday fabrics – Quick Christmas Project.  It is simply all squares set on the diagonal, easy!
This super fast runner uses holiday fabrics, just one long panel and some squares for a cute addition to the decorations or a nice hostess gift.  I wanted this one for the kitchen with its baking motifs in Christmas colors.  Quickie Christmas Project.
Then, a really fast and simple Candle Wrapper for some holiday decor with the same fabric.  The same idea with pockets filled with thread makes a great gift – Sewing Kit.
Do you enjoy wool applique?  Here's my original pattern for a Christmas Penny Rug.
Then, you'll need a fast quilt for the guest bed with Christmas Trip Around the World Quilt.  I finished this one in just days, before my mother in law came for Christmas.
Make a Charleston Bag in Christmas colors!
Here's last year's Christmas Tablescape, and I have a fun idea for this year coming up.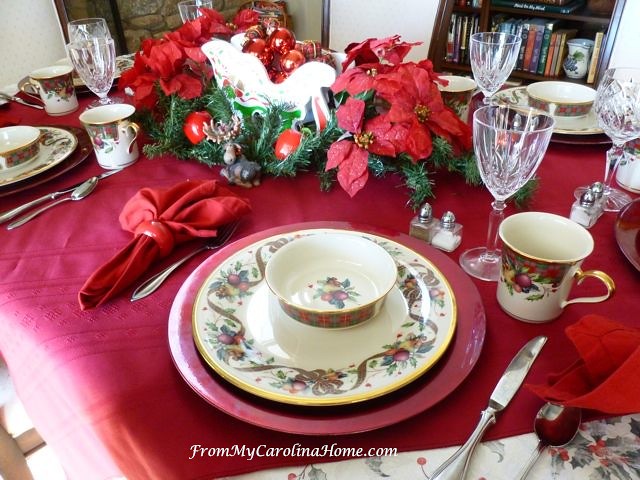 How about a couple of special recipes and another tablescape in Christmas Breakfast.
Gifts from the kitchen include cookies and biscotti, great for hostess gifts or that cookie exchange!  Make Chocolate Covered Oreos, Christmas Vanilla Sugar Cookies and Cranberry Eggnog Biscotti and there won't be a crumb left for even a mouse.
There are lots of ideas for Christmas Ornaments, using handwork frames, button covers, your embroidery machine, or cookie cutters.
Here are some card ideas from 2015, Stamping Christmas Cards.  And save the ones you get for Crafting Projects From Christmas Cards.
Start with Christmas Quilt Along to make this table runner, or use the blocks in a square for a topper.
Use some pine cones to make a Holiday Pine Cone Hanger.
See my Christmas Hexagonal Table Topper free pattern.
A couple of years ago, I did a 12 Days of Christmas event, with 12 posts all on Christmas ideas!  Start with Gifts From the Kitchen.
See more ideas for homemade Gifts for Guys.
Then see how to turn your unfinished stitchery into ornaments with Christmas Stitching with Ideas for Finishing.
Make a holiday mini quilt with this free pattern – Christmas Mini Quilt.
And as you probably know, my head is full of more ideas, so lots of new projects coming up this month.  If you are interested in seeing more, click on the categories on the sidebar or see some of my pages at the top of the blog.   I was very excited to be chosen as Jolly Jabber's Longarmer of the Month for November!  See that interview HERE.
If you are visiting from Crazy Mom Quilt's last link up, welcome! I hope you will take a look around and follow my blog for more fun ideas and new patterns, the Teacup Quilt Along and a new Mystery Quilt Along beginning in January.  I'm also leading an effort to provide quilts for the victims of the Carolina hurricanes, see that update post HERE.  We'll pick it up again after the holidays.
What are you working on for the holidays?