Guys are really difficult to make gifts for as they don't really go for most of the sewn and crafty items that we gals like to make.  I have yet to see any guy actually wear an apron while grilling, but most will be delighted with a gift of something for the grill.  Here are some of the hits I have given, starting with a seasoning mix for meats on the grill.
Gather together some herbs and spices, combining them in a small wide mouth Ball jar for your grilling guy.  I'll give you my recipe for the spice mix, but know that you can add and subtract as you like.  You can also fiddle with the amounts, if you like more garlic and less onion, go for it!
If I have larger bits like peppercorns, I will use my mortar and pestle to grind them myself.
Steak Seasoning Mix
2 tablespoons sea salt
2 tablespoons cracked black pepper
1 teaspoon onion powder
1 tablespoon chipotle chili powder (or just chili powder)
1 tablespoon garlic powder
1 teaspoon paprika
1 teaspoon dry mustard
Combine ingredients. Store in airtight container.
To use: sprinkle on meats before grilling, or mix into hamburger meat before grilling.
In the download, the recipe for this Bold Smoked mix using black smoked salt is included.  To use just pinch some of the mix between your fingers and sprinkle over the meat.  Both these mixes work great on beef, pork and chicken.  In addition, it works nicely as a dry rub for smoking meats, and under barbeque sauce. Just put a label on the top and it is good to go.
Yum, steak!  That's my Garlic Zucchini on the side!
Another idea is to combine some items from his favorite store in a creative container and you have a dynamite gift that the guy will really appreciate. Then fill it with guy stuff that he likely uses all the time, things that he will run out of and need more – batteries, tie wraps, shop towels, latex or nitrile gloves, hand cleaner, nail brush. A box of gloves can be wrapped separately and given with the caddy. This one has microfiber towels that DH says are good to have, hand cleaner, a hanging flashlight and tire cleaner.  DH has put plastic razor blades on his list for scraping gook off things without scratching surfaces.
For the gearhead guy, make up a car care caddy with his favorite car care products.  Go to the garage and find out what brands he likes.  DH says that most guys are a bit picky about which wax they want for the car.  But other things like dashboard conditioner and tire cleaners are pretty generic.  Sets of funnels are always useful too, as are cable ties in both white and black.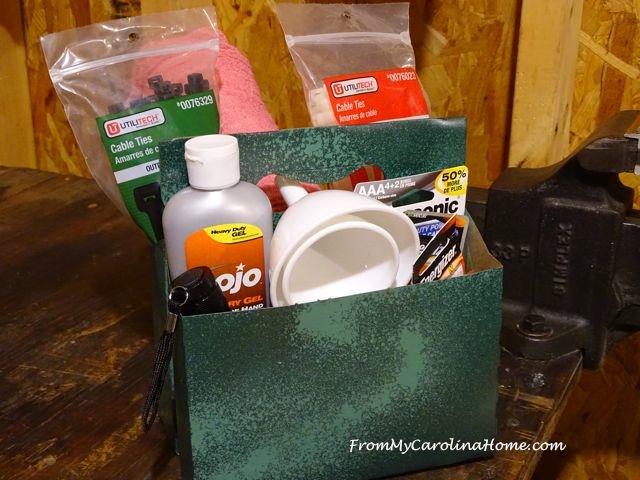 This is another one for the car guy, with car care products from Mothers and Meguiars, both brands DH likes.  The larger wells of this caddy from a restaurant to-go section can take the bigger size spray bottles.  With all of these, wrapping is easy with the clear bags made for baskets at the dollar store and a big bow.
For the gardener guy, garden gloves, specialty slow release fertilizer, inexpensive hand tools, seeds.  You are only limited by what you can think of, take any theme and find six things that fit that theme.  I use six pack cardboard carriers that I spray paint.  More ideas in the download.
If you are set on sewing something, make a banner for his garage or man cave.  You can find sheets and bedspreads with fun motifs on them like this one with The Stig – (a character on a British TV show about cars called Top Gear).
The head was on the pillow case, and the body on the bedspread.  I cut apart the pillow case and sewed it to the bedspread, adding a sleeve on the back to hang.  I have seen Tardis sheets for the Dr Who fan, Star Trek and Star Wars stuff for those fans, sports team sheets, whatever your guy is into probably has something you can turn into guy decor.
Here's the download – Guy Gifts
Do you have a DIY idea for a guy gift?