Christmas is such a fun time for decorating, and doing special tablescapes for friends is at the top of the list.  I've been having sewing days to get a big quilt top done for Quilts of Valor, and we've been doing pot luck lunches.  I am blessed with a lot of friends, too many to have all at once, so I get to have more fun with more sew days.  Certainly we need a pretty table to enjoy our lunch, and I could take care of two goals at once, as I needed a new tablescape for today's post, my day on a fun blog hop.  Last year, my focus was rustic green with gold, and the year before was red with gold.  Since I like to change things up from year to year, this year the color scheme will be more red.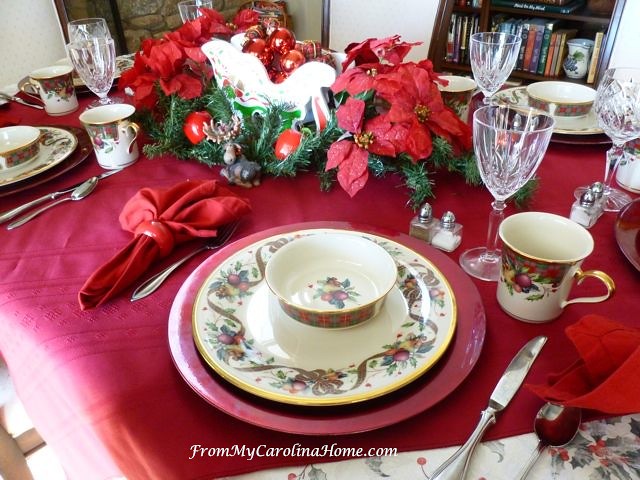 Starting out, I put a holly berry tablecloth on the dining table, and set a stack of dishes down so I could gather more things for the centerpiece. The print was not enough red for what I had in mind, so I decided to add a solid red topper.
Red chargers provide the base, and I added Lenox Holiday Tartan china dinner plates and the large soup bowls.  We were going to have soup with lunch.
But, knowing that everyone would be bringing a dish, and there is always too much food, I changed the bowls over to a smaller fruit bowl for smaller portions of soup.  I love this china, inherited from my mother.  She had exquisite taste.
For the centerpiece, I placed a large sleigh in some greenery garlands and added poinsettia flowers on each end.  In the sleigh, I placed red ornament balls.
A couple of pretty ornament balls are on each end adding a bit of shine.
Red apple ornaments flank whimsical reindeer taking a break.  I have two of these cute little guys, so there is one on each side of the sleigh.
The centerpiece is low and full, so we can see each other and have conversation over it.
I found some tiny tartan wrapped packages, and added those to the sleigh to echo the tartan pattern on the dishes.
Crystal glasses for water, coffee mugs, flatware and napkins held with red napkin rings finished off the settings.
Later I added place cards so all the participants had a special place.
One more overall view.
DH will be happy to know that not one new thing was purchased for this table, it is all done with new ways of using items I already had.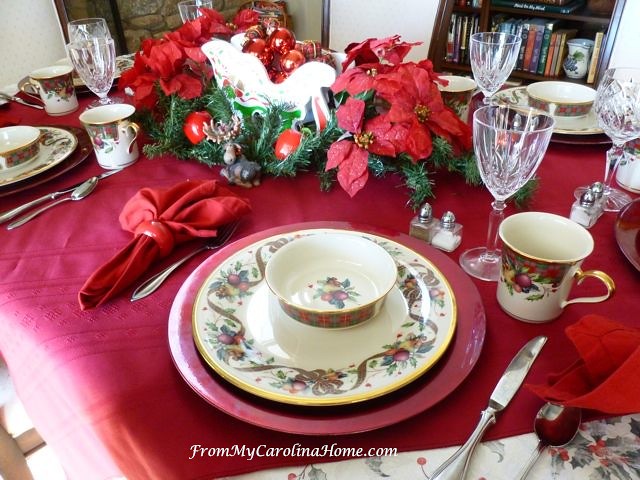 And now, for more tablescape ideas, here is the link list for the blog hop.  Monday through today are direct links active now.  Thursday and Friday link to the blog's main page, and will be updated to the individual pages each day so you can come back and see more through Friday.
Do you like to set a pretty table for the holidays?  Do you have special things or holiday china to use year after year?
Also sharing at…