It is Cyber Monday, the last of the shopping special days of the Thanksgiving holiday weekend, and beginning of the holiday shopping season. Isn't this a fun time of year? The decorating and parties are starting, cookies are baking and holiday cheer is popping up everywhere. Already there are lots of homes sporting holiday lights for the evening hours, and we are looking forward to the annual Winter Lights show at the Arboretum again this year. Anyway, for today, I have pulled together more free tutorials and ideas for your Christmas holiday decorating and more. Last night, my friend Kathleen suggested I write a book called Gift and Goodies, LOL!! She is such a stinker. So, here is more, the links show in color, just click on them to open a new tab and see that post. Enjoy! First up, here's some fun ideas on wrapping packages. See my post Making Packages Bright.
Have a hard-to-buy-for guy on your list? Have a look at my Gifts for Guys post.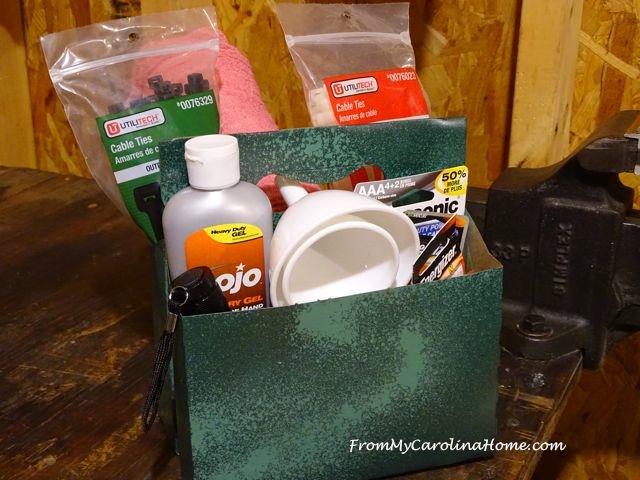 This Christmas Kitchen post has several ideas for baked gifts, plus one dedicated to our furkids. There's a downloadable pdf recipe for Peanut Butter Dog Biscuits. I use a dog bone shaped cookie cutter and pack them in little goodie bags.
Need an idea for a special Christmas Breakfast? See that post for Blueberry Turnovers and a downloadable pdf of my Christmas Breakfast Casserole.
Time for a Holiday wreath, and I have several posts for different holiday theme wreaths for you. See A Festival of Wreaths, Making Holiday Wreaths, Christmas Wreaths, and a Winter Wreath that can stay up through the new year.
Of course, we have to have a fun tablescape for a cookie exchange. See my post A Christmas Lunch and Cookie Exchange for my Egg Nog Cookies recipe and a plan for a small cookie exchange with a festive table to enjoy.
This super fast runner uses holiday fabrics, just one long panel and some squares for a cute addition to the decorations or a nice hostess gift. I wanted this one for the kitchen with its baking motifs in Christmas colors. Quickie Christmas Project.
Do you enjoy wool applique? Here's my original pattern for a Christmas Penny Rug. It works up fast and festive with some seed beads for embellishment.
Would you believe you can work up a Christmas quilt in time for company coming this year? See my Christmas Trip Around the World to see how I did one in just 10 days. You can too!
Or if you only have time for a little one, here's my original mini-quilt pattern. Christmas Mini Quilt.
You know, you can put Christmas colors on any of my Scrap Dance patterns to get a fun holiday quilt for your own bed or the guest room. You can also make a holiday purse with my Charleston Bag pattern in just a day. Just for Cyber Monday, take 25% off any of my quilt patterns in my Etsy store with code CYBER25. Sale is today only.
I'll be stamping some Christmas cards for this year soon. But if you need inspiration, see my past posts on making Christmas Cards. Stamping Christmas Cards, Christmas Cards for the Shelter, Iris Folded Christmas Cards, Christmas Tri-fold Card, and Making Christmas Cards.
Fat Quarter Shop has huge Cyber Monday Savings and Mega Flash Sales today only. Get a free gift with orders over $60. Today is a good day to order online to get your gifts in time, knowing how shipping is these days!
Merry Christmas! Are you making gifts or cards for the holidays?