Looking to past archives for some ideas that you may have missed, or for new readers to see, I've picked out some fun ideas from past years for your enjoyment today. Perhaps you'll see an idea for a last minute gift for this year. Let's start with a Nine Patch Star Christmas runner. We did this as a quick quilt along in 2017, in three parts.
This Wool Applique Christmas Penny Rug was perfect for my tiny frolicking reindeer.  This handwork project goes together quickly and the post contains the free pattern download.
See my Gifts from the Kitchen for fast, last minute ideas that you won't find in a store.  This post has a pdf of several gift mixes with printable cards to attach for your recipient.
Have a hard-to-buy-for guy on your list?  Have a look at my Gifts for Guys post.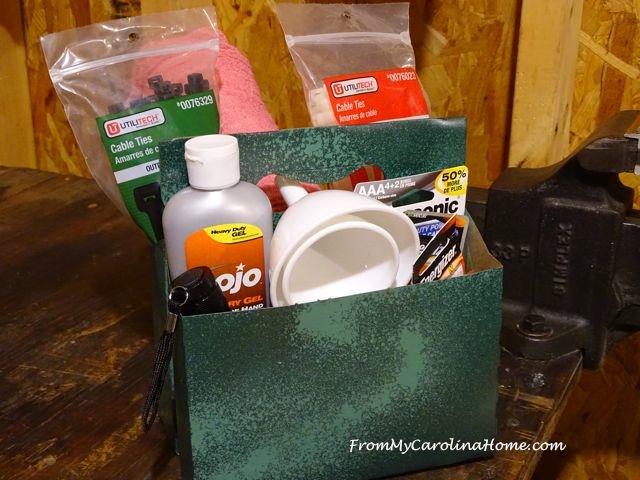 Need some inspiration for wrapping, or find this a chore?  See my Making Packages Bright post for a few new ideas to make your gifts pretty and fun to do too!
This Christmas Kitchen post has several ideas for baked gifts, plus one dedicated to our furkids. There's a downloadable pdf recipe for Peanut Butter Dog Biscuits.  I use a dog bone shaped cookie cutter and pack them in little goodie bags.
Make a holiday mini quilt with this free pattern – Christmas Ornament Mini Quilt.
Need an idea for a special Christmas Breakfast?  See that post for Blueberry Turnovers and a downloadable pdf of my Christmas Breakfast Casserole.
I'm planning a Standing Rib Roast for Christmas dinner this year.  It is easier than you think!  I give you the temperatures to cook to the level of doneness that you like so your holiday dinner is perfect.
How about a quick sewing project for a gift?  Here are my patterns for Camera Cases which provide quilted padding for the camera and uses the camera's strap for the handle.
This post is my most viewed of all time, with believe it or not, over 89,000 views!  The free pdf helps, plus it was featured on Fave Quilts.  Christmas Hexagonal Table Topper  Of course, you could do this in any colorway for other holidays or everyday use.  This is another quick-to-sew idea that makes a wonderful hostess gift.
If you have a bit more time, make my original design Christmas Quilt Along Table Runner from 2015.  There are five posts, beginning with the one linked, and each step is linked to the one after.
A fun project to do with children are Cookie Cutter Ornaments that you make with buttons, ribbon roses, and other bits you may have in your craft box.
Lastly from 2014, an elegant tablescape with a sumptuous menu and a recipe for an appetizer with shrimp and avocados.  Christmas Tablescape and an Appetizer recipe.
I hope you are having a wonderful holiday season.  Merry Christmas!
I'm planning to do a quilt along next year with Lori Holt's Vintage Christmas Book, available at Fat Quarter Shop 10% off.  Get your copy as a gift to yourself this Christmas!  There are also some used copies available for less on Amazon – Vintage Christmas Book at Amazon.
Plus, I am very close to having a mystery quilt design, coming in January!  Now's the time to get a charm packs (yes, it will have some 5-inch squares so a charm pack will greatly reduce your cutting!) or fat quarter bundle so you'll have plenty of stash!  I'll be using the line Violet Femme for mine.  It's on clearance now!