The heat is not quite as intense in the past few days, so of course I began thinking about having a luncheon with friends over to enjoy the veranda.  There are several new additions to my tablescaping closet, some from thrift stores and some from online auctions I just could not resist.  When I saw the plates, the whole table just came together.  Having a meal outside is fun.
Starting with the table runners, these were a real find!!  The lovely purple flowers and leaves are cut out, the pieces held together with stitching.
I couldn't find any lavender chargers, so I made some with thrift store ones.  I've done this a couple of times now, you can see how I did some yellow ones here.
Stoneware white dinner plates hold darling floral salad plates.  Everyday flatware is added.
Each salad plate is different.  There are two different sets married together here as I needed six plates.  I was able to get the set of four, then another two individually that worked together well.
The watering can theme shows in the darling napkin rings with white napkins, so cute!!
Wine glasses are added, and since I don't have six of any one pattern, I used crystal ones on the sides and some pink Depression glass stems on each end.  I like the mismatched look.
Some of the plates have watering cans too.
Individual salt and pepper shakers complete the outdoor settings.
For the centerpiece, my hydrangeas are blooming in just the right colors.
I gathered some milk glass vases and filled them up.
In the end, I decided that the tall one in the middle was too tall, so it was placed to the side on a table next to the rocking chairs.
The low centerpiece allows conversation over the top.
So, hopefully we can enjoy a nice view on our luncheon day.
Some will be able to watch the birds on the feeder, while we chat…
and enjoy a special lunch.
Thanks again to Chloe at Celebrate and Decorate who put together an Al Fresco Tablescapes Blog Hop!  Enjoy more beautiful tables at these bloggers.  Since this is the last day, all the links are live now.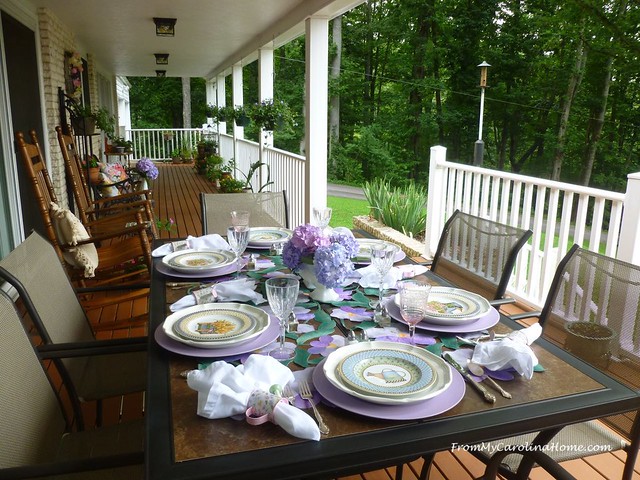 Do you enjoy dining outside?