This weekend is the time to shop for those holiday foods for Christmas dinner.  This is a fun time, planning the meal, deciding what would be festive and special.  For many years now, we have done a Standing Rib Roast.  Yes, a bit expensive, but it is Christmas and that is only once a year.  These are not difficult to cook, and that post will show you step by step how to do it.
It becomes a bit more economical when the leftover prime rib bones are used to make Beef and Barley Stew,  another easy recipe.  Garnished with a bit of sour cream and green onions, it is a fresh meal a couple of days later that will warm you up on a cold day.
Many like to have ham for Christmas, and I have a post that will show you how to slow cook it using two different methods.  Slow Cooked Ham.
First, if you have a large, 6-quart slow cooker (like my Kitchen Aid Programmable one), cooking a ham this way results in very juicy slices.
But if you don't have one of those cookers, I'll also show you how to slow cook in your oven using parchment to create a moisture shield.
Now, for side dishes, Parsley New Potatoes With Sour Cream Sauce goes well with ham.
My Cheddar Onion Mashed Potatoes are also good for holiday meals as well as everyday.  We have these with our Prime Rib on Christmas most of the time.
But maybe you just want a simple meal for two.  The White Wine Chicken and Mushrooms is good, and sometimes I add artichoke hearts to make it a bit more special.
Roast some garlic this weekend so you'll can make Roasted Garlic Butter and then try some of the recipes using it.
In the same post is my Baked Spinach with Roasted Garlic, another recipe I use with the Prime Rib, shown in the first photo.
Perhaps you love turkey, but cooking a whole one is too much. Using just a breast half to feed two, my Roasted Garlic Turkey Breast is yummy.
Another favorite turkey breast recipe is my Panko Crusted Deviled Turkey Breast.  Flavorful and juicy with a lightly crunchy crust, it pleases most every palate.  You can always adjust the spices and herbs to suit your taste.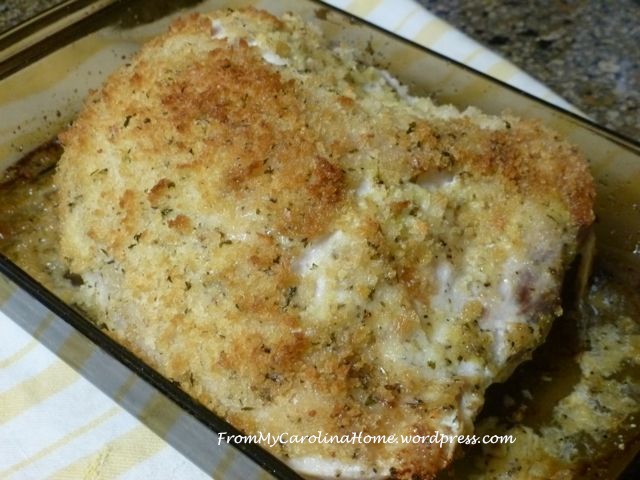 From a few years back, my Rustic Egg Bread goes well with a meal, and makes great sandwiches for the leftovers.  It can be made a day ahead too.
It just isn't Christmas without cookies, but at this point it isn't practical to bake dozens unless you have a cookie exchange this weekend or a big family coming for the holiday.  So, a few years ago, I did a recipe for Just a Dozen Sugar  Cookies, a small batch recipe just for a few to decorate and enjoy.  I updated the post this year with a way to do icing too.
What are you having for Christmas dinner?