This past week has been a lot of piddling around, and not finishing much. I've done a few embroidery motifs using the new cards purchased for my 20+ year old Brother Pacesetter machine. I showed this one last week, as it was stitching, here it is completed. I'll add two more to this one for a three-panel wall hanging.
Several asked about the darling pattern that I have for this hand stitchery when I showed it before. It is a Stitcher's Revolution iron on transfer. It is available on Amazon – Stitcher's Revolution Ktichen Sayings. There are lots of other designs too, if you are interested including designs with themes of Crafts, Gardening, Cats and Dogs, Spices, Baking, Camping and Critters, and more. I still don't have much done on it, as I put it aside to do the binding on my To The Nines quilt.
I stamped a card and put it in the mail this week.
Then, I was inspired to do some little bags for the Safelight residents. I made a dozen cards with a simple design on the front, the Believe in Yourself sentiment inside, and a sweet flower on the envelope.
I stamped white paper bags with the adorable dog called Darby Love from Impression Obsession, one I use a lot this time of year. I added a Thinking of You sentiment and a flourish on the left with my Stampin UP roller. I put a card, a heart shaped treat and a pink tissue in each bag. They will be delivered this week.
While I'm on the subject of charity work, the national Project Linus organization is having a fundraiser quilt show. You can vote for your pick from 49 quilts made during a mystery quilt along from last fall, entering as many votes as you wish for $1 each, minimum of 10. Faithful FMCH blog reader and virtual retreat pal Mary Ellen's quilt is #18, if you would like to support her beautiful interpretation of the quilt. There are some wonderful prizes for the quilt makers to win, and you can support this wonderful organization at the same time. Just click on the button below to vote/donate.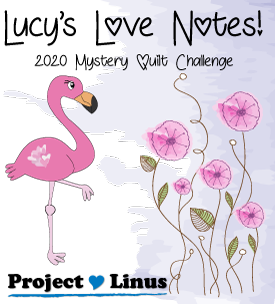 We woke to snow on Sunday morning, but it melted off quickly once the sun came up. A Northern Flicker stopped by, all by himself. He wouldn't sit still for a good photo, and flew off a moment later. I expect we'll see more as they do come through this time every year.
On the Amaryllis watch, it has taken days for the blooms to go from this…
to this. It looks like only two blooms this year, but it is the eighth year it has bloomed!
I am working on assembling Pachanga, so I can't show you what I am sewing right now. Next clue for the mystery is Friday, and it is an easy one. I also have two customer quilts to longarm quilt, and a charity quilt to do after that. What are you working on this week?