What is a person to do when both the car clubs we belong to plan events for the same day?  Well, go to both, of course!!  Starting out in the morning, the British Car Club met at in Fletcher for an annual drive around the countryside to the Amish farm for lunch.  We had a great turnout for this drive, always popular, even on a drizzly morning like this one.  That's our red Mini on the right, one of 22 cars on the drive.
Our club has a lot of different marques, and a few drivers were brave enough to put the tops down.
The Delorean parked behind a light blue Jaguar.  In front, a burgundy MGA.
With everyone assembled, we set off on the back roads, winding around the mountains.
We went east from Fletcher, out through the apple orchards and around cornfields.
We dodged the raindrops along the way.  For the past couple of weeks, we have had some rain every day.  It is maddening for trying to get the veranda painting finished, but it makes the mountainsides lush and green.
Clouds covered the sun all day.  The darker areas threatened more rain.
We drove all around the apple orchards, and out to Bat Cave before turning north.  I took several photos of the apple trees, but they all came out blurry.  They are heavy with apples, all green and will ripen over the next month or two into the main agricultural crop of our county.
In Bat Cave, we crossed over a stone bridge, and a high running Rocky Broad River.
We arrived at Troyer's Amish Store, and parked in the meadow all together.
We had so many cars, we needed two rows here plus more on the side.
Fun to see all of them parked together, an impromptu British Car Show.  All the other visitors to the store that day were coming over and taking pictures.
The pavilion on the left is where we collected to eat our sandwiches. Made by Troyers, they were piled high with fresh cut deli meats and lots of fixin's on homemade bread.  Mine was roast beef and provolone on sourdough bread with lots of lettuce and home grown tomato.  Yum!
The store is an older white house, made into the shop and deli, with lovely gardens and flowers all around the house.
This drive event is so popular with club members, we do it every year. You can see more about the farm on my posts from years past at A Trip in the Mountain Countryside. and again the following year, I showed their Gardens.
When we had our lunch and a bit of time to shop the store, the group drove together to Terry and Mary Alice's home for dessert.  Mary Alice had made several cakes and goodies to serve our crowd for dessert.
Mary Alice is a Master Gardener, and her gardens are superb.  I've also posted about her garden one year with another car club drive in 2015 – Mary Alice's Garden.
We headed home for a bit of rest, then changed clothes and drove up to Asheville to meet the Mini Cooper club.
We had dinner at a Japanese restaurant called Green Tea Sushi.  You know I cannot resist sushi when I have the opportunity!  This is a Rainbow Roll with an oyster roll.  Itadakimasu!!
What are you up to this weekend?
Makers' Black Friday – Shop Our Biggest Sale Of The Year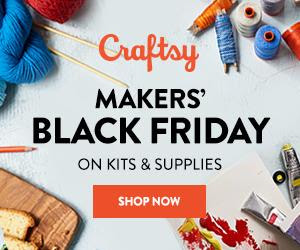 Save Up To 70% On Supplies (8/3-8/6)
With Makers' Black Friday, the most wonderful time of the year comes early. We're kicking off our biggest event with curated doorbusters we know you'll love.  There are 597 items on sale in Quilting alone!  Up to 70% off Knitting, Crochet, Quilting & Sewing supplies and up to 50% off Cake and Baking supplies.  Coupon Code: No code needed!!  Affiliate links.
Sharing
Take Me Away!