When we left this project before the Christmas in July event, my longarm had completely locked up. I was flabbergasted, it always chooses a holiday weekend to give me trouble, and this happened over the 4th of July weekend. Then, the fabulous tech support guy, Randy, who can solve just about anything over the phone was on vacation for the next week. So, the week after that, DH was home and was able to get with Randy and fix the main problem.
On my next day off, which was a few days later, I threaded it up and started to sew a sample patch just to check the stitches. Here is what the back side looked like.
Horrors!! Well, just a tension issue, right? Wrong. One little bit was out of place in the bobbin race, and it made this mess. Plus, I fiddled with the tensions before figuring that out, so more time to get them back to balance. In the end, it was stitching well, and I could go ahead on the charity quilt.
The pantograph is a sweet bow, fast and easy.
I finished the quilting in just one afternoon, then added the binding. I put a label on the back with simple topstitching by machine. It means you can see the rectangle of stitching in the corner, but I don't think a child will care.  See the original post with the scrappy fabric choices here.
While working on turning it to the back, I realized that football season is getting really close! Yippeee!! That also means the State Fair is right around the corner and I have to get my paperwork in. I'll be entering a lot of categories again, in quilts, crafts and photography. When I retire, I am going to start entering the cooking contests too. That will be fun!
What are you working on now?
Sharing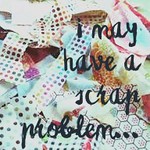 Needle and Thread Thursday at My Quilt Infatuation
Snickerdoodle Create Bake Make