Who says a quilt block has to be square?  I was looking at the Disappearing Nine Patch block again, with the idea of making another of my own Variation in pastels, when it occurred to me that there could be another possibility.  What if another square was added? The result would be a brick shape, and may be interesting.
I started in the usual manner, constructing a nine patch block using 5 inch squares.
I slashed it in both directions through the middle.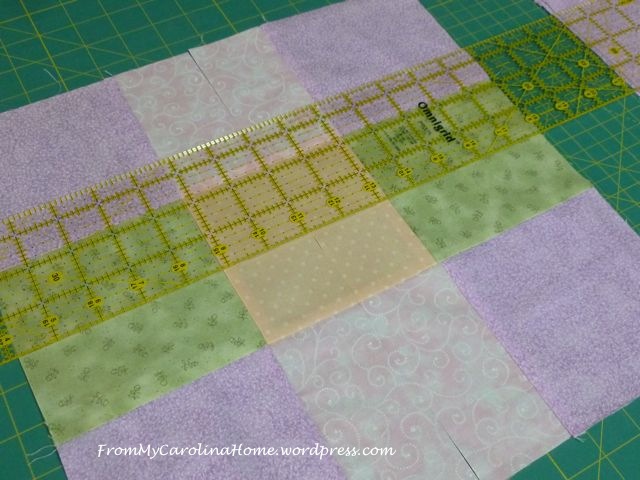 I rotated the upper left and bottom right sections per the usual manner.
Then I set out the top two and bottom two together, keeping the side to be sewn on the right. I made four blocks at once.
Chain piecing per usual.
I set out the top and bottom sections together, with the four stacked on top of each other.
Then I cut eight 7-inch squares out of yellow fabric.
I offset the top to the right and the bottom to the left, and place the yellow squares in the spaces created.
They were sewn together.
I set the bricks together, and it made a small quilt with just four. I think this could be very interesting with a large print for the square tiles, and lots more bricks.
This size was good for a lap quilt, so I added a border in cream.
Then it was loaded on the quilting frame.   A bow pantograph quilting design was stitched on it.
Sweet, isn't it? I don't often get a chance to use this pantograph.
Finished and bound!
I'll have to show it around a bit before it gets donated.
It was so easy and fast, I really should make several more. These would make nice lap quilts for the veterans, or people in nursing homes. They are just the right size for wheelchair use.
To see another one of my design with a directional print, click HERE.
My blog is a variety of subjects, quilting and sewing, tablescapes and recipes, book reviews and hand stitching, crafting and mountain living. I love to have new followers, too!  See the buttons on the sidebar to follow by your favorite method.  If you are visiting from Hometalk, Fave Quilts, All Free Sewing, Pinterest, a link up site, or just found me, please stay a bit and have a look around, my tutorials are gathered at the top in pages to make them easy to find.  Lots of fun is had here, and I invite you to follow with any of your favorite methods, see the sidebar for ways to follow.  My annual mystery quilt along begins in January each year, and my annual Autumn Jubilee is the entire month of October every year.  Click on the Home page to see the latest posts on the blog.
Are you doing any charity quilting now?
Thank you to everyone that uses my affiliate links when you are shopping.  It helps to pay my costs for the blog and shipping expense for prizes so I can bring you more free patterns, mystery quilt alongs and fun.  Here are some of the latest bargains from my affiliate sponsors –
Fat Quarter Shop has the Hoffman Dream Big Panel, in all kinds of colorways both the dahlia and a leaf design at the lowest price, get yours so you can quilt along with me in November.  Click on Fat Quarter Shop plus get 20% Off the Basic of the Month, and 30% Off the Notion of the Month, plus check out the Daily Flash Sale – something new at clearance pricing every day!
Fun Stamps on Sale 50% Off at Impression Obsession!  Super fun sets including some for upcoming holidays, like Halloween and Christmas, along with those for year round use like Birthdays and Patriotic themes.  Get some great sentiment stamps for the next Safelight project, coming next April.
Check out the Amazon Prime Special, Amazon Audible 30 day trial + 2 free books, Deep Discounts on Kitchen Items, and trade in your old Kindle for the new Kindle for 25% off and a Gift Card equal to the value of your trade in.  Then take a look at the Kindle Unlimited Program.  Shop the Amazon Outlet for deep discounts on overstocked and discontinued items.