The growing season is fairly long here in western North Carolina, and even more things are blooming now.  It is the last of summer, with some bloomers hanging on, and new ones coming out.  On the veranda, about half the pots still have something blooming. These yellow bidens just keep coming.
My pink geranium gave me this beautiful flower, and looks like it will do a few more before it is done.
I planted these dwarf asters last fall, and totally forgot that they only bloom in the late summer. They came from the bargain shelf at the big box store.  I almost pulled them up, then saw some tiny buds forming. A few days later, they burst into beautiful mounds of purple flowers.
This lovely hydrangea bloom came early in the month. Stunning color!!  This is my favorite, the lovely lavendar that is a perfect balance of blue and pink, meaning the soil is practically neutral, not too acid or too alkaline.
Now all my hydrangeas look like this one.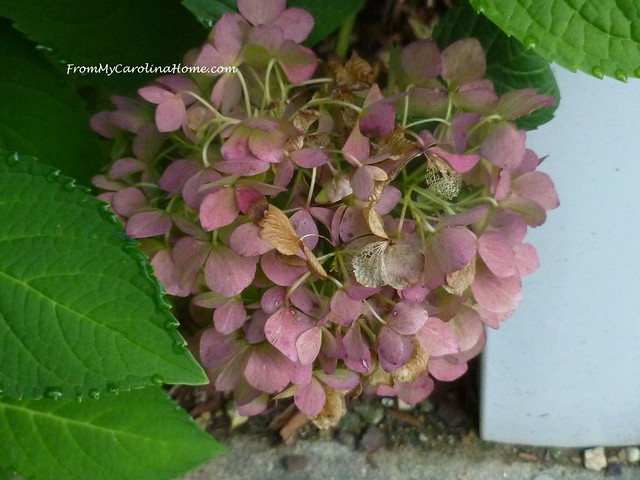 My coneflower produced five blooms this year, one had faded by the time I got a picture.  This was a gift to me two years ago from a friend.
The Gerbera Shasta Daisy is covered in buds this year, and burst into bloom on Friday morning.
It was time to do some clean out of the flower bed where the squash and tomatoes were planted. Disappointing results this year, not one single squash and only a few scrawny tomatoes.
The last tomato was plucked and the plant pulled up. This was a yellow tomato I grew from seed. It gave me exactly one tomato.
The squirrels apparently planted a tree for me. Well, that had to come out!!
While DH and I worked on getting the weeds out, this little guy popped out from under the house to find out what was going on in his yard.
All cleaned up!
I planted a couple of deep red mums to give the garden a fall look. The doves were placed in with them.  They were covered in buds, and fully opened up this week.
I was really surprised to see one of the white irises put up a late bud.  I thought these were done for the year last month.
It was stunning, and bloomed the day before the entrance day for the garden competition at the fair.  So, I thought, why not enter it? I cut it with its buds and took it with me in a tall glass container to the fair.
We went to the fair last Saturday, and I was astounded to see that it had won a second place ribbon.
And so did my hydrangea bloom, that popped open the same morning!  I took it as a whim as well, and was just blown away when it got a second place ribbon, considering the competition!!  I think it was its color that did it, as most of the others were greenish with the dark pink that is typical for hydrangeas at the end of the blooming season.
Finally, I entered the giant cup with the Gilded Grape Torenia, and it won a third place.  How fun is this?!!
Anyway, back to reality, the veranda needed to be refreshed as much as the flowerbeds. I pulled out the plants that were looking too sad to keep and put those pots away.  Then rearranging what was left made a fresh display for the corner.
The cleome was happy, and gave me a bit more color.
This begonia is still going strong, I just turned it around so the flowers can be seen from inside the house.
All the hanging torenias continue to attract the hummingbirds and big bees during the day.  There are still a few spent flowers on this one that I need to get to.
Then just Friday morning, the yellow gladiola made an appearance. A bit of wind damage got the lower bloom.
I took down the spring/summer wreath and put up one that is transitional.  It is made with pine cones and artificial fruit.  It looks like fall is on the way without being too autumn leafy.  See how I made it – Harvest Wreath.
The rockers are beckoning!  The impatiens in the table pots are still doing well too.
The storm weakened a great deal before reaching us overnight last night.  We had rain beginning yesterday afternoon that continued through the night, but so far so good.  It looks like it won't be as bad as predicted, but the worst of it should go through later today and tomorrow.  The prediction now is for 3-6 inches of rain, but a lot less flooding than originally forecast.  I think we will be fine.  Thank you to everyone who has asked about us!!
So, lots of clean up accomplished.  Soon it will be time to plant more bulbs.  What's blooming in your area now?
Sharing
Gardens Galore