When Fave Quilts contacted me to be a part of their month long event for National Quilting Month, I was delighted! I've been a top designer for them in years past, but it has been a while since I did a pattern for them. This month, one of my designs is featured. It is the simple improv quilt I showed before, and promised you the pattern. You can find that now on Fave Quilts on their National Quilting Month page, and the free pattern is HERE, with a downloadable pdf.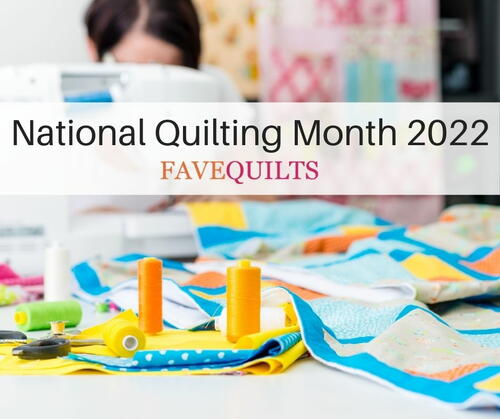 Be sure to click on the Fave Quilts National Quilting Month page and scroll down to see how you can enter the many giveaways!
You can see many of the projects and posts I have done for Fave Quilts over the past few years on my Designer Page – Carole Carter. Some link back to my blog, and others are complete on the website.
More news for our quilting pleasure, I have completed the pattern for the Rooster Parade quilt. Finishing at about 42 inches square, it is a perfect size for a large table topper or a lullaby quilt. Pattern sales support the costs of writing and publishing my blog so I can bring you more free stuff and fun events. The pattern is now available in my Etsy store, for a limited time at a great intro price of just $5.50! Shop my Scrap Dance series and other quilt patterns on Etsy, too.
When you can't quilt with friends in person, the next best thing is a Zoom Retreat and here is where the Quilting Month goes Worldwide! Recently ChookyBlue hosted another quilting day on Zoom, and we had so much fun chatting and working on projects. When I came on, nine quilters were already hard at work. Talking about so many subjects during the couple of hours I spent with them, we all have so much in common. No matter where you live, charity and hope for our future abounds, along with a shared dislike of washing windows.
I took another screen shot of us when we got to 12 on at one time. Quilters from all over the world came and went that day as they had time, representing Australia, New Zealand, Germany, Norway, Canada, England (UK) and USA. Imagine that!!
The daffodils are coming along, and will be the inspiration for a set of spring placemats I have in mind. More on that project as it gets farther along.
It couldn't be a more perfect day to shop for those things we need to finish projects. New specials are posting frequently for this month long celebration of quilting. Don't forget to enter the drawings at Fave Quilts!
See What is on Sale at Sulky for National Quilting Month, Plus free shipping on orders of $60.
Impression Obsession – new sale items added for spring – On Sale 50-60% off.
Fat Quarter Shop – Sales on Notions, Books, Patterns, and Fabric. See the Precuts and Books of the week, and don't forget the daily Flash Sale.
MadamSew – up to 63% off notions, like rotary cutter blades and the Ultimate Presser Foot Set.
Find new ideas with Books on Sale at C&T Publishing like Sizzle Quilts, and Zakka Wool Applique among many more great project and technique books at great prices.
Do you have plans for this month of quilting?