The Autumn Jubilee quilt along continues today with the second block to mix with the pumpkins.  Did you get some pumpkins made?  You'll see more of my quilt retreat photos as I constructed most of these blocks there.  Staying ahead of the quilt along was a challenge this year, LOL!!  Quilt retreat came at just the right time.
Going big with 12-inch finished blocks, let's mix a star with them.   I figured out this Nine Patch Star last Christmas with the quilt Table Topper Quilt Along, and thought it would be a major stashbuster for Autumn Jubilee.  So, gather some squares and come quilt along!
Cutting for one block, multiply by number you want
Nine patch squares 2-1/2-inch squares = 9
Corners Background 3-1/2-inch squares = 4
Star Points Color 4-inch squares = 4
Star Points Background 4-inch squares = 4
Begin by making the nine patch center units with the scrappy 2-1/2-inch squares.
Press rows opposite to allow nesting of the seams. Square to 6-1/2 inches.
Sew the half square triangles with the 4-inch star points colors and backgrounds.  See my post on Making HSTs for detailed instructions.
Square the HSTs to 3-1/2 inches.  Sewing the HSTs units together into flying geese with the background as the geese. Press the seams open on these units to reduce bulk.  These units will be 6-1/2-inches.
Now it is decision time. Since the HSTs make two of the same print combination, you need to decide if you want to match them like this….
or mix them up scrappy like this. I liked scrappy for mine.  In this one, I noticed I had two of the same print on the star points, so I switched one out and played with the positions of the others a bit.
Better.
Sew the units in rows, pressing the center towards the nine-patch units, and the other rows towards the corner square.
If you choose scrappy, make some piles of 8 HSTs to be sure your prints aren't duplicated in the same block. Doing this near the end of the sewing of this unit, I found I had too many of two prints, and needed to make a few more HSTs in other prints.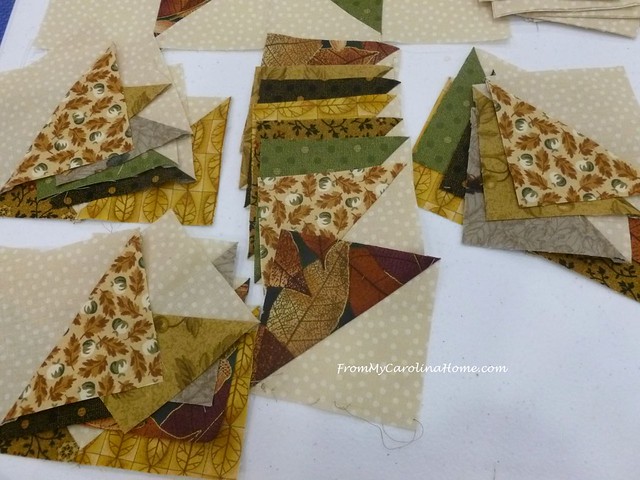 Make the number you want for you chosen size. I needed ten.
If you are doing the alternate colorway, your stars will look like this.  After I did this, I thought it might look better with the white on the star points, and scrappy green nine patches.
Backside Fabrics will award a $25 Gift Certificate for their gorgeous wide backing fabric, your choice for today's giveaway!!  You'll love the high quality backings and great prices at this North Carolina online store.  Open to international entries too!
To enter, leave a comment on this post, then click on the button below.  Giveaway over.

I've been having such fun reading all your comments, thank you so much for the kind words!  I do post on the comments here and there so you all know I am reading.  Go back to previous posts and see the fun ideas being shared too.  Share your Autumn Jubilee Quilt Along progress on Flickr in our group From My Carolina Home Project Sharing on Flickr , or share in our facebook group – From My Carolina Home Project Sharing on Facebook.  Please comment on each other's shares too, being a part of the From My Carolina Home community is fun!  I spend about 5 minutes a week on facebook to see your progress, and want to thank my wonderful moderators Mary and Pat for keeping up with the group to add new members.
Last week's winner of the Aurifil Festive Collection is Joni W!!  Congratulations, Joni, I sent you an email.  There is still time to enter the other drawings from last week if you missed any.