The apple tree blossoms are in various stages, some are just blooming, others are done.  We almost waited too late to take a drive out to the apple orchards to get some pictures of the blooms.  They really are beautiful, once again white flowers hold a special place for me.  I just love them.
I am not sure what varieties of apples will come from these beauties, there are so many different ones in this county.  One can hope for lots of Honey Crisps!  But these could be Jonagolds or Sheep's Noses, Pink Ladies or Winesaps.  Who can tell?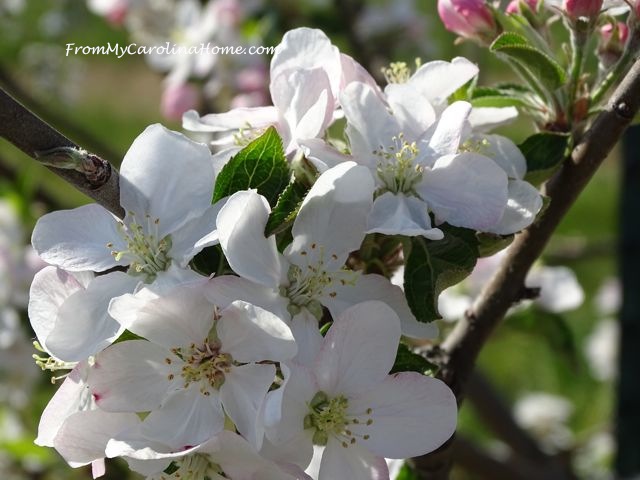 There are many apple orchards in this county, it is our primary economic crop.  Henderson county grows 85% of the apples in the state.
The sky this day was a striking blue, not a cloud. The lovely blooms have a blush of pink.
Another orchard nearby, but the grass was a bit too tall to get a close shot of the blooms.
Going farther east, this orchard is right on the main road to Bat Cave.
These blooms are almost pure white.
Yet another orchard off the main road, the branches of these trees are more twisted than the other orchards.
Lovely, aren't they!
Soft blush pink, gorgeous blooms.
Row upon row, out in the country, with rolling hills behind this orchard.
More close up shots, little apples in process.
Softly fragrant, beautiful and abundant.  There was a cold snap this week, so I am hoping that the "Blackberry Winter" didn't damage the crop.
Now I am trying to decide if any of these might be an entry in the photo category for the State Fair this year.  The light was just perfect for some of the close up pictures of the blooms.
Thinking about the apples to come in the fall, I am thinking of getting some apples from the store to bake my Apple Cake Donuts or a Caramel Apple Coffee Cake.
Are there fruit trees near you?  What is blooming in your part of the world?