A few weeks ago, I received a stuffed package of trims, zippers, patches, and other things from Rosemary in Virginia to assist our quilt club with our Alzheimer quilts project. In return, I promised to make her two Alzheimer quilts for her local group to see how to do them.  I finally got them finished, and shipped them off!
I began by quilting two pieces of fabric 18×24 inches. I used the same fabric front and back. The quilting was simple loops.
The second piece was put on the same backing piece with at least 3 inches between.
After quilting, I cut apart the pieces. I trimmed the backing/batting to 1-1/2 inches all around.
Then, I folded the 1-1/2 inches of backing overage to the back along the seam line…
and cut away the excess batting.
Fold the backing raw edge to the edge of the quilt…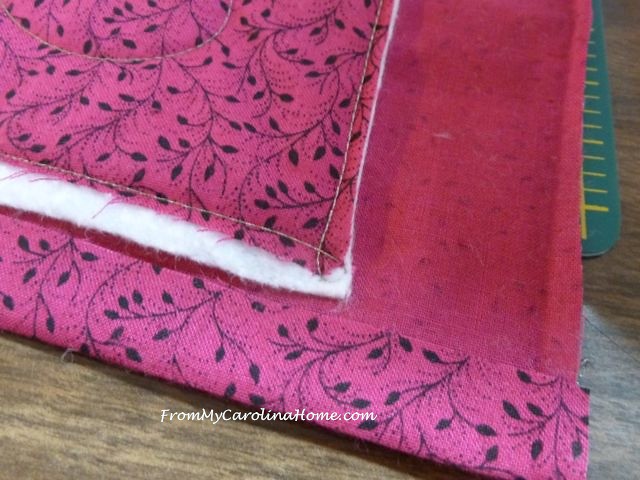 then over again to cover the raw edge to form the binding on one side.
Fold the corner at a 90-degree angle to the quilt.
Then fold the next side's fabric in half, meeting the raw edge to the edge of the quilt.
Fold over again to cover the raw edge, forming a perfect mitered corner.
Put pins in to secure all the corners and top-stitch along the edge of the binding.
Two bases done and ready to add the fidget items.
Rosemary sent all kinds of things to play with. Interesting items you have no other use for can be recycled into something very useful.  Colors you might not use are perfect here, like an orange zipper.  Bits of this and that can be put to good use rather than thrown away. I picked out this heavy zipper first, and placed it diagonally on the top, stitching it down on both side and each end.
A patch makes a wonderful texture to rub fingers on.
Alzheimer patients tend to like velcro, so I used the pieces Rosemary sent on large grosgrain ribbons. I stitched one side down to the topper.
And then added the other side held only at one end.
Next, long tails of picot trim were added to the zipper pulls to make them easy to grasp, and add another element to play with.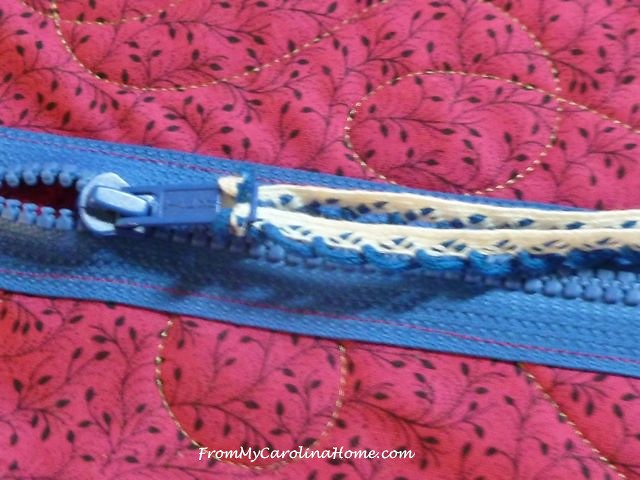 I added two more sections of textural ribbon pom-poms. First one done.
On the second one, I added lace seam binding to the zipper pull. Using a crochet hook makes this easier to thread through the small hole.
I stitched these tennis racket appliques onto a soft flannel pocket form, then stitched it to the quilt.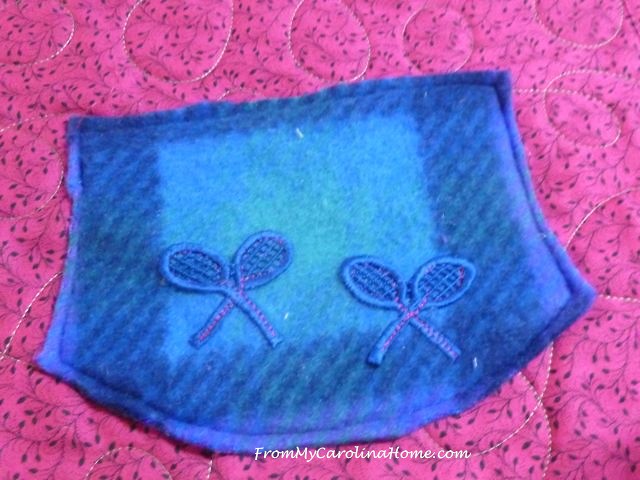 There was still some of the rainbow trim left, and I liked the gathering on it. This time I stitched two lengths of it down side by side with the gathers going in opposite directions.
This one got a velcro strip too.
I made a ribbon flower from a pretty ribbon trim, and added a button to the center.
This cute little patch was stitched down too.
Second one done.
If you want to do this with your quilt club, be sure you ask at the facility first to be sure you provide what they need. Our local club makes these for two facilities, both with very different rules. You may find that at some facilities buttons are allowed, but not in others.  In most cases, the items on the quilt need to be able to stand washing in hot water and drying in a dryer. Plastic that might melt isn't a good idea.  In some facilities, each resident will be given the fidget quilt for their use alone, so they wouldn't get washed that often. In others, all fidget quilts might be washed frequently, and the recipients receive different ones each time they are brought out. Just check first, so there are no misunderstandings.  I am happy to support this worthy cause, and find a way to use some things that would otherwise get donated or thrown away.  You can see the other Alzheimer quilts I made last year HERE.
My blog is a variety of subjects, quilting and sewing, tablescapes and recipes, book reviews and hand stitching, crafting and mountain living. I love to have new followers, too!  See the buttons on the sidebar to follow by your favorite method.  If you are visiting from Fave Quilts, Pinterest, a blog hop or link up, please stay a bit and have a look around, my tutorials are gathered at the top in pages to make them easy to find.  Lots of fun is had here, and I invite you to follow with any of your favorite methods, see the sidebar for ways to follow.  My fourth mystery quilt is in progress for 2018, click on Scrap Dance Square Dance on the sidebar for the first post.  Click on the Home page to see the latest posts on the blog.
How do you recycle bits and pieces?
Did you see my Japanese series?  The fun book of small sewn items is available at Amazon with my affiliate link, just click on the picture.