It's National Button Day!  Believe it or not, another wacky holiday for us to celebrate.  So what can we do with some buttons in the craft room?  Here are a few ideas, some I have blogged about last year. The holidays are coming up, how about making some Cookie Cutter Ornaments with buttons.
Use a dimensional button for the center of a wool flower…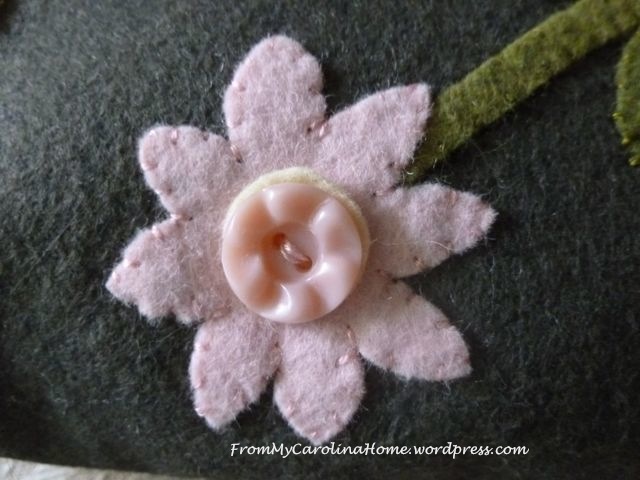 and little blue buttons can be a delphinium in this Spring Basket wool work pattern.
Here's a basket I decorated with buttons in rows of pastel colors for spring.  Just hot glue the buttons to the basket and add silk flowers.
Use buttons to add dimension to a stamped card.
These little mint tins were spray painted with gold, then adored with buttons and lace or ribbon roses.  Just a bit of hot glue here too.
This tote bag project uses buttons to hold covers over an ugly logo.  There are six choices, and the entire tutorial is HERE.
Use your mother of pearl buttons to embellish a Table Stand Quilt, all in white.
Make a Sewing Chatelaine for your show pins, or use buttons to embellish.
Make a Quilted Sewing Machine Cover and embellish with sewing motif buttons.
Filling a jar with a red buttons and adding a red scrap of fabric with a red closure ring makes a cute accent for a sewing room.
Just in case you have more buttons to use than ideas to use them, check out my Pinterest board Buttonmania.  You'll find literally hundreds of ideas, from covering your shoes to wall art.   I need to go fire up the glue gun and get creating again.  Happy National Button Day!  What will you do with your buttons today?
Sharing with the fun linky parties on my sidebar.