One thing that always a problem is keeping my sunglasses scratch free.  I often have used drawstring bags, or quilted ones where the glasses slide in one end.  Those are easy to make, but the problem is the glasses will not stay inside.  They end up either sticking out the end,  or coming out altogether inside my purse.  So, the only thing to do is to make a new pattern for one that will hold the glasses inside.  Now, I like big sunglasses, ones that will give me a lot of protection both in front and partially around the sides, and they have to have a bit of glam or bling with rhinestones or something cute.  My friend Bonnie calls these my Jackie O glasses. LOL!!
To get started, I pulled out two coordinating purple fabrics to make the case.
Fabric and notion requirements –
Two pieces of fabric 10-inches x 9-inches.
One piece of scrap batting 8-1/4-inches x 9-1/4-inches
One piece of velcro 4-inches in length, both hook and loop sides
Start by putting the two pieces of fabric right sides together and sew around the edge with 1/4-inch allowance, leaving an opening for turning.
Clip corners. Turn right side out pushing the corners out sharply. Press.
With a tool like a chopstick, insert batting, using tool to smooth out the batting flat inside the bag.
Topstitch 1/4 inch from the edge all the way around, catching the opening for turning.
Quilt simply with cross-hatching, or wavy lines.
I used wavy lines in both directions, about 2-1/2 inches apart.
On the outside fabric, stitch one side of the velcro near a short edge about 2-1/2-inches from the sides (centered).
Position the other side of the velcro on the inside fabric near the edge and stitch down.
Fold the bottom edge up 3-1/2 inches.
Top-stitch the sides.
Finished, and ready to use.
Closed up, the velcro will hold the glasses inside.
Larger and longer than most, this case will hold those larger size shades.
Nicely padded with the quilting, it will keep the glasses scratch free.
Closed with the glasses inside.
You can make smaller ones for your reading glasses too.  Just measure the length of your glasses and add one inch.  Now I have a matched set!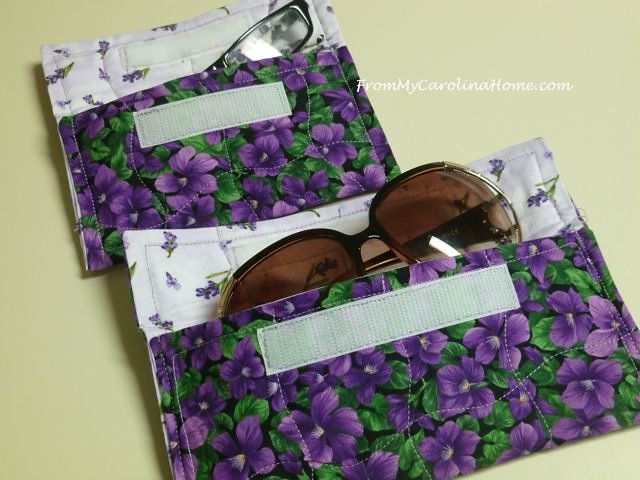 Linking up with the Bag It! event on Elm Street Quilts.
This simple design can be used for scissors keepers too, or anything else you want to carry and have remain inside the case.  I think I'll make another one for Autumn!
My blog is about a variety of topics, quilting and sewing, crafting and cooking, reading and travel, mountain living and gardening, and more.  You can follow my blog in several ways, see the sidebar for email sign up or blog-reader links (smart phone users scroll down past the comments).  I have lots of free patterns for quilters, mystery quilt alongs, holiday quilt alongs, and seasonal events with giveaways.  Please follow me for all the fun!  Speaking of Autumn, my Autumn Jubilee event is coming up in October, a whole month of projects, a quilt along, a sew along, crafting projects, tablescapes, recipes and giveaways.
(Affiliate links.  Check out today's Flash Sale! By clicking on the link and making a purchase, I may earn a small commission to help support the costs of my blog.  You can use your existing account with Fat Quarter Shop to shop.  Thank you for using my links!)
What colors would you use to make your sunglasses case?