So I mentioned last month that I had a big bargain to share.  Here it is.  Would you have taken this home from the garden center clearance rack?  Would you if it was only $1.50?  Yep, paid $1.50 for this dry, sad, bedraggled hibiscus.
But, a few hours later after a thorough soaking it was beginning to perk up.
Two days later, it is looking even better and there are two buds on it!
Two weeks later healthy and thriving, and the bud is bigger.
A torrential rainstorm got this bud before it could open nicely.  But, a few days later, there is another one.  And another half a dozen buds behind it.
The bud color deepened, and one evening it was starting to open.
Wow, a double bloom!
More buds to come, isn't this gorgeous!!
And just a few days later, more blooms in a gorgeous lighter peach color.
Two blooms at once, and both in the lighter peach color. Strange that the first bloom was darker.  Yes, I swear, it is the same plant!  The pictures were all taken in late afternoon.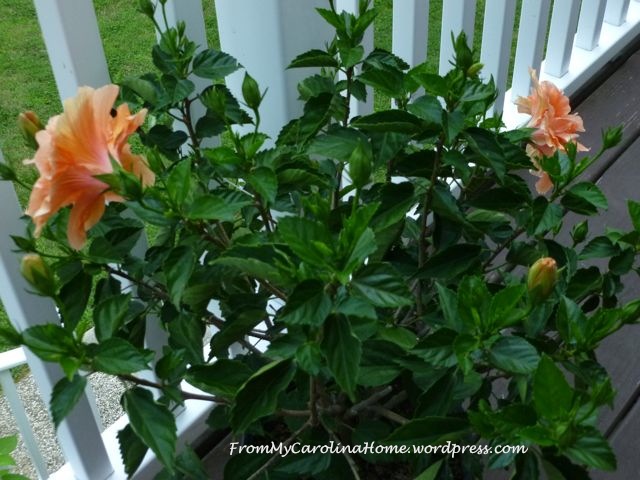 Looks like this beauty will bloom for days or even weeks to come!
I can't stop taking pictures of this hibiscus!!  Every day more blooms.  Here's the plant again a day or two after the pic above has four flowers – one spent, two in bloom and one opening up.
And just a couple of days ago, arriving home at sunset to find seven blooms!!!  Of course, I had to take a picture of that too!
Amazing!!  There are at least a dozen more buds to come. Was that a buck-fifty well spent or what!  If you like to garden, don't overlook the clearance rack, sometimes there are real bargains to be had! Do you have a bargain flower story?
If you love flowers, stop by the blog and see the header photo I just put up.  It is my azaleas with a butterfly, and I'll be entering this photo in the state fair photography contest this year.