You meet the nicest people in the quilting world!  I have recently made a new blogging friend over at Karen's Quilts, Crows and Cardinals and she sent me a darling pattern for a wool work applique that she designed.  Just a gift because she wanted to.  How nice is that!!  I finally finished it, so here it is.  A Spring Basket with a cute bird and lots of flowers.  Of course, I had to do a few things different, mainly because I was determined to make this project without buying anything else!  Ever have  projects like that?
While I was making this project, it occurred to me how wonderful these serrated edge scissors are.  They are called Perfect Scissors, and I agree.  They make cutting wool a breeze!  The wool doesn't slide around and the points are easy to cut.  They are super sharp with a sharp point that gets into little tight corners for cutting accuracy.   More about them in a minute.
Anyway, I had most of the colors called for.   Green leaves and stems, and a pretty yellow for the forsythia.  I just had to embellish them a bit more with some seed beads.
The pink daisy is sweet, and I had two of these wonderful dimensional buttons I wanted to use somewhere.  This was the perfect place!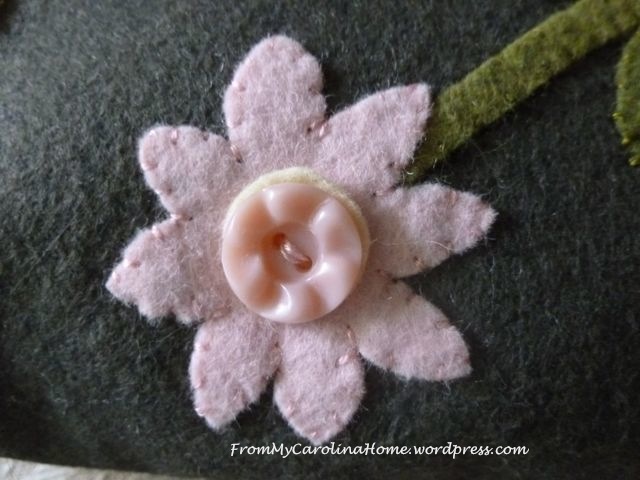 I didn't have the right color of blue wool, but what I did have were lots of buttons in just the right size and color, so the delphiniums are buttons.
Adorable bird, I should have done his feet in a lighter color.  Oh, well, too late now.  His eye is a seed bead in black with a French knot in the center.
I have a day lily that is yellow with a burgundy throat, so I did those colors.  The center is cream with three French knots for detail.
The vase was a little plain in the off white, so I sewed a molded plastic leaf decoration in the center.
I decided to make it into a pillow, so sewed it to a gold color for the back, and stuffed it lightly with layers of batting. Looks great on the chair,
and on the sofa.
Would you like to make this adorable project?  You can get the pattern at Karen's Quilts Crows and Cardinals.
Now for the more about the scissors.  I like these so much that I emailed the designer Karen Buckley and asked about having a giveaway.  I got an immediate response from Lynn Stine that they would be glad to sponsor a giveaway!!
So, I have this pair of scissors to send to someone reading this post right now!!  Aren't you glad you read all the way to the end?
To enter the giveaway drawing, leave a comment.  You can have a second entry if you follow my blog, just leave a second comment saying how you follow.  If for any reason, the comment doesn't post, contact me using my contact form and I will enter you in the drawing.  Yes, I will ship internationally.  I wouldn't want to leave out anyone, so all are welcome to enter.  A random number will determine the winner.
If you have left comments before, you know I always respond back in an email.  For this giveaway, I am hoping for quite a few comments, so I won't be responding individually.
So, how about that as a way to celebrate my 100th blog post!!! (OK, 102 but who's counting?!!)

You have until 11:59 pm Thursday July 17 Eastern US Daylight Time to enter. The drawing will take place Friday July 18 in the morning and the winner will be notified by email. The winner will have 48 hours to respond. Good luck!!