I finished up the quilting on this Quilt of Valor as I had a lot of time over the weekend. I did a lot of stitch in the ditch around all the blocks, and around the stars or spools inside the blocks. I got a little more feather practice, and put egg-and-dart in the sashing using a new stencil.  I still have some work to do to get the over-the-top feather backtracking to look good.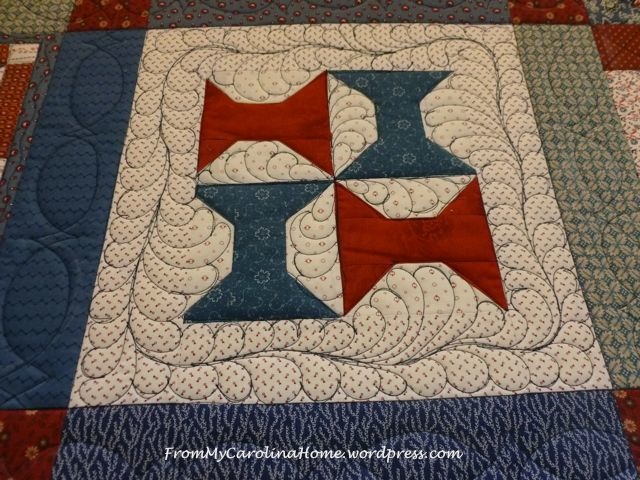 I got some ruler practice in with this block, there is quite a bit of SID on this one too.
I did a wavy line in the thin border on several blocks. The wavy line in the middle is a mistake, where the ruler slipped.
I got in more practice with the triangles, attempting to use the continuous route I learned over the summer.
I put a touch and go feather in the border of this block.
Feather wreath with lots of SID in the little triangle section.  You can see the ribbon candy border here too.
I don't think the chalk marker is that good for a precise design, the darts here aren't consistent.
Here are the borders, I showed this in the WIP post, but the whole quilt is now done with ribbon candy in the inner border, and piano keys in the outer border.
Overall, it is OK, I think. I am sure someone will appreciate the quilt, and hopefully not look too closely at the quilting. I am still an amateur, and I have lots of practice to do.