Aren't Mason jars the neatest things?  I don't know why I am so drawn to them, maybe because they remind me of a simpler time.  My grandmother made the best jams, and always used those jars.  I found these lovelies in a thrift store, and had to get them.  They say Golden Harvest on the side with an embossed cornucopia.
Now, here's a fun fact. See these red tops? Can you guess where I got them?
They are the lids to peanut butter jars. I found out quite by accident that they fit the Mason jars exactly. So each one gets a leaf to cover up the peanut butter logo.
I found this seasonal ribbon at a local craft store. It is wire edged and see-thorough. I cut a piece long enough to circle the jar with a bit extra to fold under. I started the project by hot gluing the ribbon down on one end to the jar, leaving the words Golden Harvest visible.
Then fold over the other edge to make a clean finish and glue in place.
I had gathered some acorns out of the yard, and I had the silk leaves ready to go.
I hot-glued two or three leaves over the seam on the ribbon, then hot-glued three acorns on top of the leaves.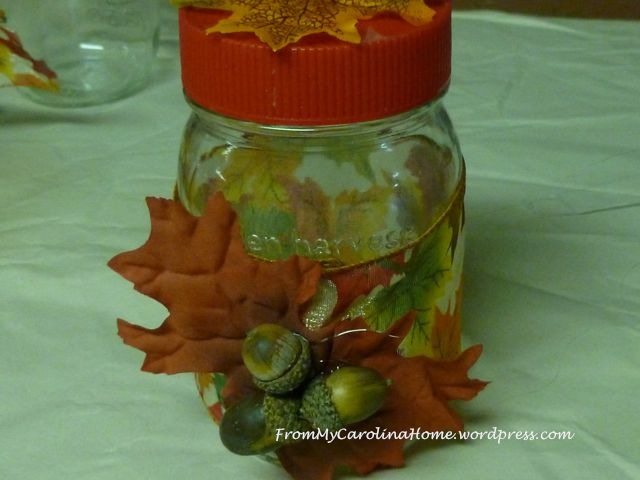 I filled the jars with Apple-Cinnamon potpourri to give as little Happy Fall gifts.
All the colors work well together. All the recipient has to do is open the jar and put it out for the gentle scent to welcome autumn.  They could also have candles in them, or soup mix, or cookie mix, the possibilities are endless!
I think I'll use this basket to deliver them.
Welcome Autumn!!  My blog is a variety of subjects, quilting and sewing, tablescapes and recipes, book reviews and hand stitching, crafting and mountain living. I love to have new followers, too!  See the buttons on the sidebar to follow by your favorite method.  If you are visiting from Hometalk, Fave Quilts, All Free Sewing, Pinterest, a link up site, or just found me, please stay a bit and have a look around, my tutorials are gathered at the top in pages to make them easy to find.  Lots of fun is had here, and I invite you to follow with any of your favorite methods.  Follow by email so you won't miss my annual Autumn Jubilee event in October with lots of projects and tutorials though the month with a great line up of giveaway sponsors.  You can see last year's event by clicking on the category Autumn Jubilee on the sidebar. Click on the Home page to see the latest posts on the blog.
Check out today's Flash Sale at Fat Quarter Shop!
Find Mason Jars for your table, and fun Mason Jar recipe books on Amazon.
Thank you for using my affiliate links!